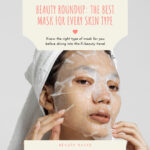 Who doesn't love putting on a mask to refresh and refuel after a long day at work?
A face mask, can be a fantastic tool to have in your beauty arsenal, but not all mask are created equal. Depending on your skin type and goals, different masks work better for different people. There's just something about taking a little extra time out of your day to give your skin some TLC – even if it requires adding an additional step to your skincare routine.
With so many different types of masks to choose from, it can be overwhelming for some of us. Scroll down as we help you identify which type of mask is best suited to you and your skin to reap the most benefits out of your self-pampering moment.